Game Title Reveal: The Meanderthal!
---
Yes! The name of my space barbarian game has been revealed!
Exit: Project Quinoa...
Enter: THE MEANDERTHAL!
How do you like it?
"A cosmic platformer starring a mysterious space barbarian. It is inspired by 70's sci-fi superhero comics and emphasizes an interactive story, exploration, and challenging boss encounters!"
uh...Would you want to play a game like that?
Yes? well: A Demo Is Coming This Summer!!
ha, trying to be in hype mode. Nevermind, check out this gif:
Full tilt into completing the combat encounters. I'm about half finished...that mole above is a midboss. You'll also fight a bunch of these gross snails: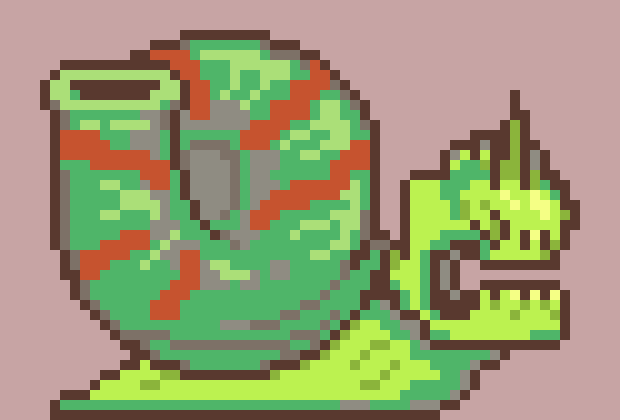 I took it to a live event and showed it off last week. It was the first time anyone other than me and my one tester pal had played the combat, so I've finally got some real life feedback! I learned what I kind of knew (& hoped): it's hard & a little trial/error, but addictive! Some people bounced off the combat, so I'm fixing some stuff. But with a lot of players, I couldn't get them off the controller until they beat what I had! It spurred a lot of conversations about difficulty, and uh, Dark Souls (never played it!)...and it was at points called one of "those games"...I guess masocore? I'm cool with that!
Progress ever continues! Getting excited as it's closing in on a release of a thing!